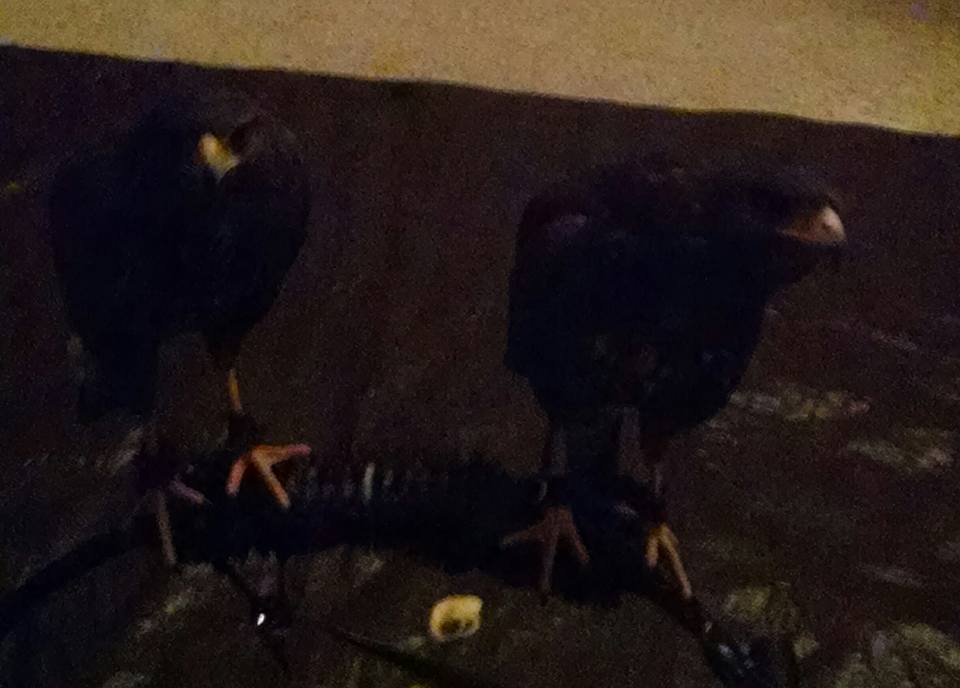 About two weeks ago the Sonoran Desert Falconry staff ventured to San Francisco to pick up two new birds, Cain & Abel. They are siblings in every way possible. I must confess to being introduced to a new aspect of falconry I've never experienced before, sibling rivalry. Tonight while offering Cain a morsel to jump from his perch to my glove, Abel decided he couldn't wait any longer and did the jump from his perch across the room. Cain was not to be outdone. He jumped for the next morsel immediately.
Cain and Abel will be Sonoran Desert Bird Abatement, LLC birds. They will be used primarily on commercial properties to rid those areas of nuisance birds. We are in talks with an amazing staff at a five-star resort in the area and look forward to seeing Cain and Abel grace their skies for a very long time.  Their falconry outings will be limited this season, though I do intend to get them some hunting time, I want to be careful with that. Young Harris' hawks can be difficult to enter on game and that's an advantage for us when first starting Cain & Abel out in their roles as abatement birds.
Morpheus and Morgana are fat and happy. No weight reduction for training has taken place. I'm still nursing a broken foot, two more weeks in this boot and then the hunting hawks will be free to fly. That will also give this darn weather a chance to break. Its still quite hot here in the Sonoran.We tied a record at 100 degrees today!
Have a great rest of your week and happy hawking!
Signing off,
Tiffany M. White,
Captain of the Sonoran Desert Falconry Team